Scottish samplers – how to recognise them
Today we take a look at how to recognise Scottish Samplers. This is the first in a series of antique needlework sampler blogs where you will discover, if you don't already know, why people get excited…
The general rule is never to attribute anything on the basis of one indicator alone. Unless there is a place name which is definitely Scottish, serious attributions can only be made on the basis of two or more features. A sampler stitched in Scotland could have an inscription or a verse stitched in the French language. There is a  historical association with France through Mary Queen of Scots (8th December 1542 – 8 February 1587).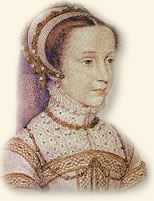 Daughter of James V of Scotland who died six days after she was born she was sent to France at age six to be raised and educated.  Aged 18 she returned to reign as Queen of Scotland. It did not work out. She was forced to abdicate. Escaping to England in 1568, her cousin the reigning Queen Elizabeth I placed Mary under house arrest expecting her to press a claim to English throne, which she did. After nineteen uneasy years Elizabeth reluctantly ordered Mary's death by execution (axe) in 1587 . You think we're inventing this stuff? More on Mary Queen of the Scots Back to Scottish Samplers, what should we be looking at? Colours, alphabets, place names, family initials, surnames, peacocks, urns, and houses. What should we be looking for? Read on…
Colors
Stitching in red and green only, is a strong indicator of Scottish origin. 1804 Scottish sampler, alphabets, numbers and family initials
On the left is a portion of a plain, pre-Victorian band sampler with no name, just a set of three family initials, SM, IM, BM, indicating this could be one of those Scottish samplers. Thread in red and green only confirms the attribution. Alphabet and numbers samplers in this style are commonly found in Victorian needlework and earlier. It had been decided that schoolgirls should learn words and numbers. World's largest online gallery of antique SAMPLERS
Verse
Occasionally a clue to a sampler's origin may lie in a verse. However we have chosen the following verse for different reasons… Moral guidance needed to be drummed into young minds. Average life expectancy in 1840 was a mere 34 years. Education included preparing children for what might be around the corner.     More demographics, Victorian Scotland. So we give you a verse from one of our Scottish samplers. Victorian style motivation for children. Scottish? House sampler with verse, for sale "Keep death and Judgment always in your eye / None's fit to live but who is fit to die / Make use of present time because you must /  Take up your lodging shortly in the dust / Tis dreadful to behold the setting sun / And night approaching e'er your work is done."
Alphabets
Alphabet bands with curlicues are a very strong indicator of Scottish samplers. Curlicues are those wonderfully intricate curly
Holbein stitches used to decorate letters in the alphabet and elsewhere.
Place names
The name of a Scottish town or school is obviously a very strong indicator of a Scottish Sampler. Amongst the samplers illustrated in this blog we have seen 'Perth' and 'Kelso'.
Family Initials
1825 Scottish sampler by Euphemia Gibson A strong indicator of Scottish origin is the use of family initials. Interestingly this tradition is also found in Flanders. The two cultures have been well integrated for centuries. Some have called this the North Sea Culture. Back then it was the German Ocean. They appear either in bands as in this sampler, or scattered around. In this case, there is the added indicator of a Scottish town name 'Kelso'. In other instances there is no added indicator so a 'Scottish' attribution is not possible. On this link is an example of a sampler with family initials only.
Surnames
A Scottish name like McTavish or MacIntosh might be construed as a clue, but caution is advisable. There were very significant population movements out of and into Scotland so surnames are spread all over the world. There has been an exchange of populations for centuries with the coastal region known as Flanders now North Belgium (Dutch speaking). John Irvine and Alex Fleming of the Abertay Historical Society are researching the Flemish in Scotland. They are asking for Scottish families with the following surnames to contact them: Fleming (Flemyng, Flemeng and Flandrensis), Baird, Balliol, Beaton, Brodie, Bruce, Cameron, Campbell, Comyn, Crawford, Douglas, Erskine, Graham, Hamilton, Hay, Innes, Lindsay, Murray, Oliphant and Seton.
Motifs
Peacocks
The peacock with fanned tail feathers is a strong indicator.
Urns
The handled urns with five flowers are another indicator. Not always five flowers.
This clip is of a page from the Marcus Huish book 'Samplers and Tapestry Embroideries' published in 1913.  The sampler is a long sampler by May Barland aged 11 Perth (a town in Scotland)  September 1779. It shows two typical fan-tailed peacocks and two handled-urns with five flowers each. Thistles may be a clue but not a useful one as they appear in proven English samplers.
Houses
Elizabeth Feller in her excellent book 'Micheál & Elizabeth Feller The Needlework Collection: 2' notes the frequency with which grand houses appear in Scottish samplers.
Scottish? 1840 House sampler by Mary Eldridge The sampler illustrated here is available for sale from Madelena online. It has a combination of family initials WE WW EW and ME. It also has a grand house with smoke coming from the chimneys, similar to the one in Elizabeth's book. On this basis we tentatively attribute a Scottish origin to the Mary Eldridge sampler. Scottish Samplers currently available from Madelena
A word about fading
Whenever we see the words 'Antique cross stitch sampler for sale' we get excited. Buying antique needlework samplers and pictures is our passion and a significant part of our business. The best find of all is the unfaded sampler that has been rolled up in tissue paper in a drawer for 250 years with colors as bright as day. For practical reasons many were folded leaving creases and wear. Others were displayed for generations and became faded, some colors more than others. Some are burned out by exposure to sunlight. Some have suffered attempts at washing resulting in running colours. In later blogs we will talk about how samplers developed in step with the role of women in the home; materials and stitches; the many different types of samplers; countries of origin; conservation; and value.
I have added a reminder of another excellent book on Scottish Samplers below.
—————-